Inter-Center Weekend, hosted in Lewiston-Auburn, Feb 19-20, 1955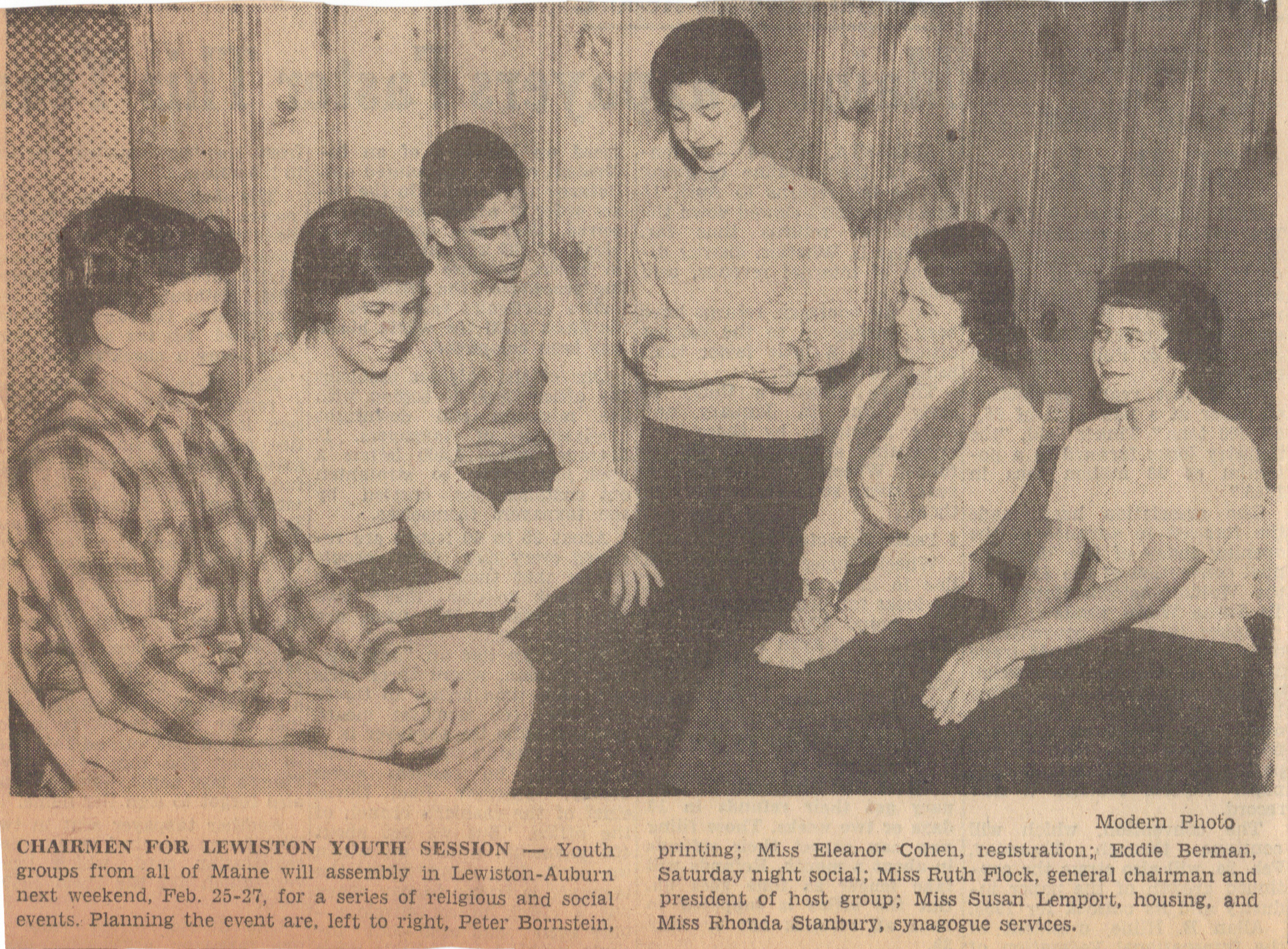 thanks to Barbara Blumenthal Sterm for saving the news article

Lewiston-Auburn Youth Center To Hold Inter-Center Week End
Portland (Me.) Sunday Telegram, Feb. 20, 1955
LEWISTON, Feb. 19
An Inter-Center weekend for Jewish youth will be held in Lewiston-Auburn, Friday to Sunday, Feb 25-27, with headquarters in the Jewish Community Center. The Lewiston-Auburn Center Youth Group is planning for an attendance of 100 boys and girls.
Registration and housing plans will be Friday afternoon at the College Street Center; and Sabbath services that evening will be held in Beth Jacob Synagogue , Lewiston.
Discussion groups will be formed Saturday afternoon in Beth Abraham Synagogue, Auburn and a dinner and dance will be held the same evening at the Lewiston Center. Speaker will be Leonard Kotowitz, New England field secretary for the National Jewish Welfare Board. He will talk on "Jewish Youth in New England."
The event will close with a brunch and business meeting at 10:30 a.m. Sunday at the Center. Miss Marilyn Brynes, Portland, president of the Maine Teen-Age Assembly, will preside. Joel Abromson, Auburn, is vice president of that group; and Miss Ruth Flock, also of Auburn, is secretary-treasurer. The latter is also president of the Lewiston - Auburn Center Youth Group, and is chairman of all local arrangements, assisted by officers and members of the group.
Committees include registration, Eleanor Cohen, Ellen Green, Shirley Silverman and Bernice Miller; religious services, Ruth Ellen Cohen and Rhonda Stanbury; housing, Niomi Alperin, Susan Lempert, Marion Goodman, and James Cohen; house- party, Marion Goodman, Ellen Green, Barry Traister and Arline Goldberg; reservations, Toby Glazer, Rhonda Stanbury and Peter Bornstein.
Saturday night program, Eddie Berman, Joel Abromson, Judith Halparin, Helene Schwartz, Arlene Goldberg, Nancy Winner, Barbara Goodman, Ruth Ellen Cohen and Arlene Goldberg.
Last Updated : Nov 12, 2009
Page Displayed : / Monday June 18, 2018