Beth Israel (Waterville) - 1905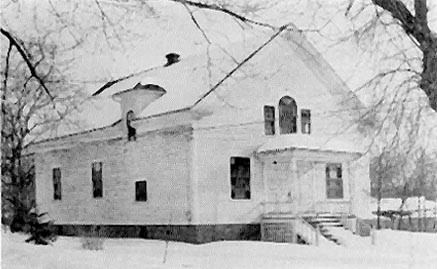 thanks to Peter and Joan Braverman for donating the image
Shortly after the turn of the twentieth century, in the days of the horse and wagon and the itinerant peddler, seven men of the Jewish faith settled in Waterville.
These men, who earned their livelihood by peddling various wares, soon were faced with the need to join together in an effort to foster Judaism for themselves and their families. Beth Israel Congregation was chartered on June 16, 1902.
The seven founding fathers were Julius Levine, William Levine, Louis Wolman, John Paikowsky, Phillip Levine, Moses Silver and John Williams. Their ultimate goal was to build a House of Worship for the Jewish residents of Waterville. Before this dream could become reality they found it necessary to conduct religious services at various private homes and other available places of assembly in the community. High Holy Day services were conducted at Fire Station No. 4 on Ticonic Street.
On August 21, 1903, the Congregation purchased a barn situated on the corner of Kelsey and Ticonic Streets. This barn was dismantled, and by securing additional new lumber, work was begun on the new building. In 1905 the Beth Israel Synagogue on Kelsey Street was completed. This pursuit was unique in that it was wholly supported by dues from members, which at that time were ten cents a week or $5.00 a year. There was a substantial mortgage on these premises, but twenty years later, in 1925, William Levine paid the balance of this mortgage in memory of his son, Theodore N. Levine.
Moses Silver, who immigrated to Waterville in 1900, became the first shochet and ritual leader, even before the completion of the Synagogue. Hyman L. Shenson became the spiritual leader in the years that followed until about 1914, at which time there was a succession of different Rabbis.


Last Updated : April 1, 2009
Page Displayed : / Wednesday June 03, 2020