Two 1886 Articles about Max Wolf
from the Daily Eastern Argus
A Bar Meetzwe
Interesting Ceremonies at the Religious Majority of Max Wolf
Daily Eastern Argus
Monday, December 27, 1886
Last evening a very large number of the friends of Mr. and Mrs. J.H. Wolf assembled at their residence 91 Middle Street to attend the Bar Meetzwe of their son Max.
Among those present who were of the immediate family of Mr. and Mrs. Wolf, were Rev. Aaron Aaronson and wife, Bernard [sic] Aaronson, Esq., and wife, Mr. and Mrs. Abraham Aaronson, and Mrs. Ratskecky [sic], and Mrs. Wyzansky [sic], daughters of Rev. Mr. Aaronson.
A very large number of valuable presents were received previous to the Bar Meetwe.
From the Grandfather Rev. Mr. Aaronson, the candidate received "thirteen gold dollars, one for each golden year". A gold watch, chain and charm, a set of Dickens, and a number of valuable books were among the other presents. Letters and telegrams were received from Mr. and Mrs. A. [sic] Davidow, of New York, H. Wyzanski of Boston; Jacob Woog of New York, Gus J. Peavy of Boston, R. B. Benner of New York.
At 8 o'clock about 100 guests sat down to dinner, at the close of which they were invited to parlors, where Mr. Bernard Aaronson acting as master of ceremonies introduced Max Wolf, who proceeded to deliver the address expected of one who has attained his religious majority. The nature of the ceremony may well be described in his own words.
" I am conscious of the importance of this day; I feel I have assumed a great responsibility. It is a day when, according to the usage of our holy religion, I am considered as entering a covenant of our forefathers with holy God of Israel; have with the attainment of my religious majority I have become a free agent."
The confession of faith made with great fervor, was " I am a Hebrew and the God of Heaven and earth do I fear."
At the close of the address the candidate repeated a brief prayer.
Rev. Mr. Aaronson made some remarks, speaking in Hebrew. He dwelt on the religious features of the ceremonial that had just finished.
Rev. Aaron Aaronson, the grandfather of Max Wolf, has lived to see the fourth generation, and is still bright, active, and full of life. The gathering last evening was highly complimentary to Mr. Wolf¸ who has gained the esteem of the community in a high degree. Beside the members of the Hebrew congregation in this city, a considerable number of leading business men were present.
(Appearing 9 months later)
Daily Eastern Argus
October 7, 1887
Died Portland Max Wolf
13. yrs 9 mos.
son of Joseph H. Wolf
Burial Jews' Yard Cape Elizabeth
Cause Diphtheria

headstone at Smith St Cemetery
<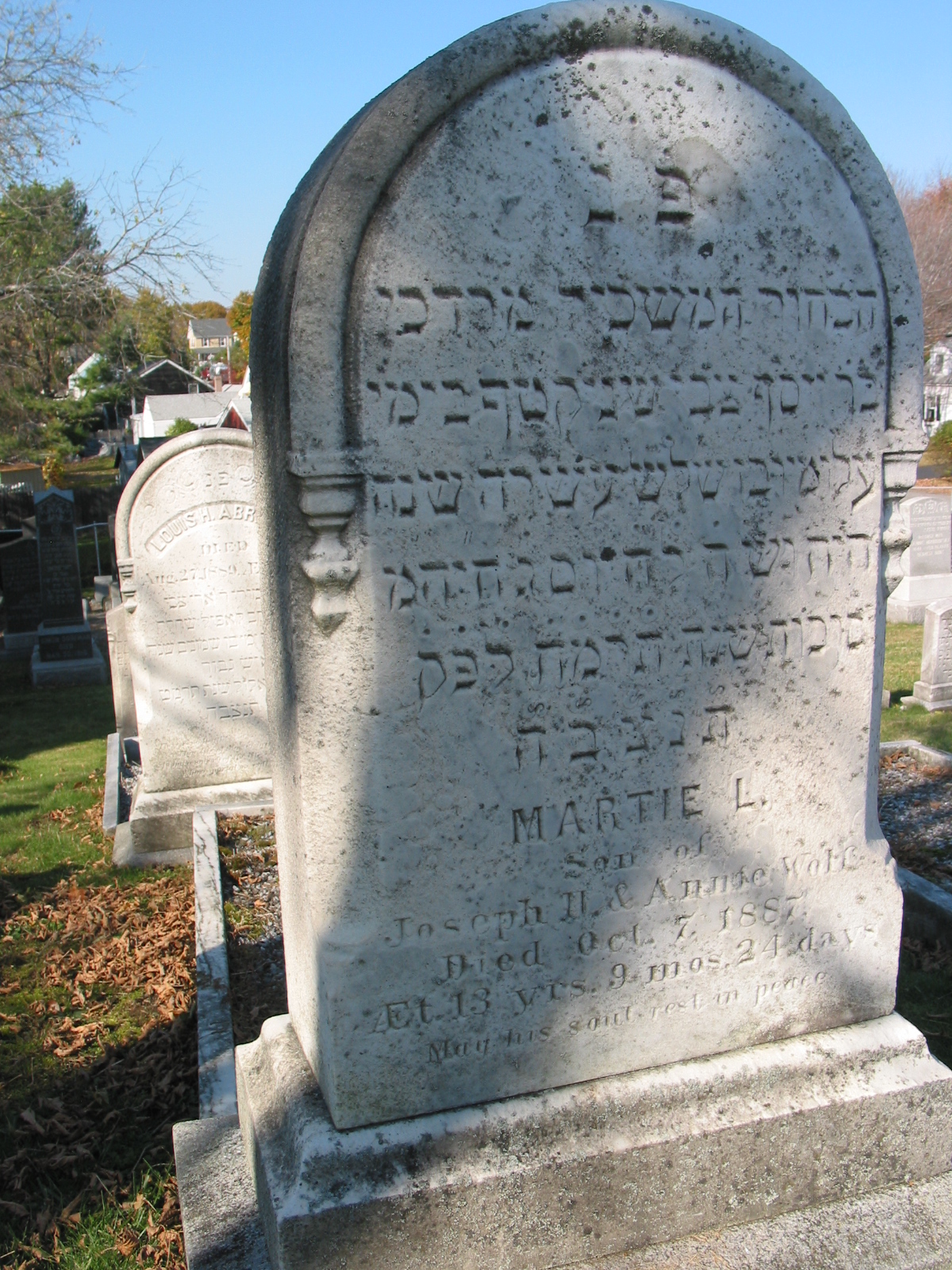 Last Updated : Oct 5, 2014
Thank you to Anne Schneider and Susan Cummings-Lawrence and Matt Barker and Susan Cummings-Lawrence for the information