Airgramme II to Harry Sclar from Rabbi Morek M Dominitz, Jerusalem letter - date not known
private collection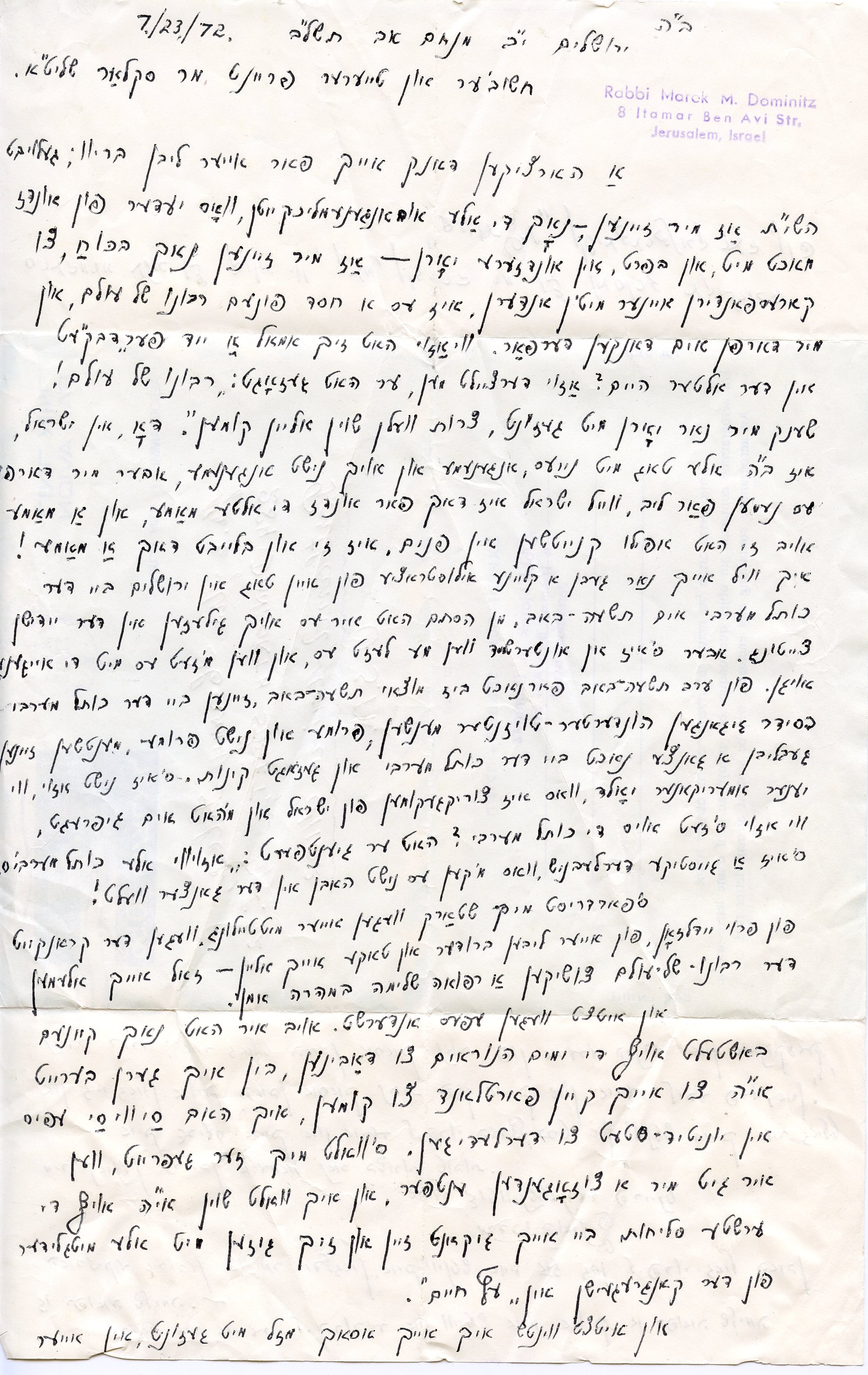 thanks to Levine family for the photo
private collection
Note :
Jerusalem 12th of Av 1972
To my dear friend Mr. Sklar,
A heartfelt thank you for your dear letter.
Thank G-d that we are still there for each other these years. And that we are still able to correspond one with another in our age. It is a kindness from G-d, and we have to thank Him for this! How did a "yid" concentrate In the old-home [expression for back in the Jewish days]
So it's told over that he said G-d almighty send me only years with health, troubles will come themselves. Here in Israel is every day with news. It is also not necessary, but we need it for love, being that Israel is nevertheless for some the old mother! And a mother even if she has wrinkles in her face, She always remains a mother. I want to give you a small "illustration" of one day in Jerusalem by the western wall on the 9th of Av [a Jewish fast day]
Generally ???? In the jewish times.
But there is a difference when you read something in the paper or when you see it with your own eyes.
The end of tisha b'av by night they were by the western wall hundreds and thousands of people. Religious and not religious. People stayed the whole night by the western wall and said kinnus [prayers]. Its not like anything in America, someone came back from Israel and you asked him how does the Western Wall look? And he answered like all the other western walls. There is a spiritual liveliness here that you can't have in the entire world.
Regarding the sickness from the wife [name ??] From her living brother and also you yourself, God should send a complete recovery quickly
And now about something else. If you have someone else set up to daven for the high holidays, I am god willing coming to Portland and I have something else in the USA to work out. It will make very happy if you will give me an answer and I will G-d willing do the first selichos [prayers]by you and the congregation in Etz Chaim. I wish you a lot of luck with health
Links to People:
Notice
: Undefined index: label in
/home/mainejew/public_html/photo.php
on line
189
Links to :

Notice: Undefined index: label in /home/mainejew/public_html/photo.php on line 191

Notice: Undefined index: label in /home/mainejew/public_html/photo.php on line 207

Links to similar items:
Page Displayed : / Saturday June 15, 2019